Join us for the final Championship round of 2020 on the 25th of October 2020!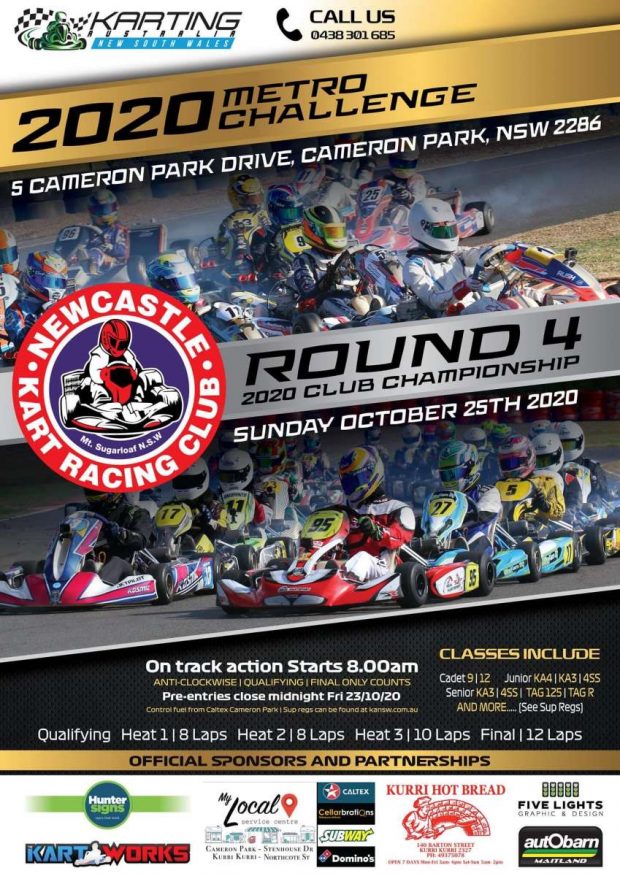 etro Cup Round 2 – Newcastle Club Championship Round 4
Newcastle Kart Racing Club will be conducting Round 4 of the 2020 Club Championship
& Round 2 of the 2020 Metro Cup on Sunday 25th October.
Pre-Entry is Open and pre-payment is Compulsory.
Entry Fee for the meeting is $100.00.
Entries Close Midnight Friday 23rd October. No Entries on the day.
Login to your licence here to Enter
Practice – Available all Saturday 24th October.
Drivers are required to Pre-Enter for Practice via the Kart Fun Sessions in CMS.
Entry Fees for Practice are $40 for NKRC Members and $60 for Non NKRC Members.
Entries close at Midnight Friday 23rd October.
Sunday 25th October.
Gates Open at 6.30am.
Format for the Meeting is: Permitted Systems of Gridding – Format 2
Direction – Anti-Clockwise
One Qualifying Session of 6 minutes starting at 8.00am
Heats 1 & 2 – 8 Laps – Grids from Qualifying – Fastest to the front.
Heat 3 – 10 Laps – Grid from Heat 1 & 2 points – Lowest to the front.
Final – 12 Laps – Grid from Heat 1, 2 & 3 points – Lowest to the front.
Trophies:
Winner will be the driver who finishes 1st in the Final. (Final Only Counts)
1st to 3rd – All Classes.
Classes on Offer are:
Cadet 9, Cadet 12, Cadet 4SS
KA4 Jun Light & Heavy, KA3 Junior & KA2
KA3 Senior Light &  Medium,
4SS Sen Light, Medium & Heavy, 4SS Supermaxx Medium & Heavy
TaG 125 Rest Light, Medium & Heavy,
TaG 125 Light & Heavy, X30 Light
KZ2 & KZ2 Trophy
Special Note – Cadet 9, Cadet 12, KA4 Junior Light & Heavy will be using
the Bridgestone YDS hard compound tyres (same as Round 1 at North Shore).

Special Notes:
All Attendees must complete the Newcastle COVID-19 Declaration
Declarations will now be automatically forwarded to the club.
Only One Declaration is required for the weekend.
Non Compliance may result in non entry.
A reminder that Drivers are now required to complete their Scrutineering Forms Electronically and can be completed and submitted at any time prior to the Event.
Please lodge by Friday 23rd October.
Click here to lodge your form: Newcastle – Online Scrutineering Form Lodgement
Supplementary Regulations are available: Click Here
Addendum 1 – Correct Direction from Clockwise to Anti-Clockwise: Click Here
Addendum 2 – Changes to Classes on Offer: Click Here

Enquiries can be made to:
Secretary – Clayton Priest – 0438 696 282
President – Michael French – 0407 981 997
Email – [email protected]
Website – www.nkrc.com.au
METRO CUP POINT SCORE
There will be two Rounds – North Shore 11/10/20 and Newcastle 25/10/20.
The Metro Cup Challenge points are calculated only for Drivers with a Newcastle and North Shore Home Club unless a  Grafton or Sapphire Home Club Member wishes to compete and advise the State Administration Manager before Round 1 which Club they wish to allocate their points to otherwise they will not be allocated points.
The Home Club on the Drivers Karting Australia Licence will decide which Club gets their points.
The Point Score Method to be used is as follows:
Each winning driver gets the number of points corresponding to the number of Competitors in that class.
This number will reduce by 1 for the next place getter and so on with last place getting one point.
For Example: For a field of 6 Competitors:
Winner = 6 Points, 2nd = 5 Points, 3rd = 4 Points, 4th = 3 Points,
5th = 2 Points & 6th = 1 Point
It should be noted that each eligible driver gets their allocated points according to where they finish regardless of whether there maybe non eligible drivers in that class in both Rounds..
The Club with the most points at the end of both Rounds will win the Perpetual Trophy for 2020.
There will also be a trophy for the winning driver in each class at the end of both Rounds for the driver who gained the most points over both Rounds.
If there is a tie in points the driver who finishes with the highest points in Round 2 will be the winner. Driver from all Clubs are eligible for this this Trophy.
That Driver will be the "Metro Cup Challenge" Class Winner for 2020.